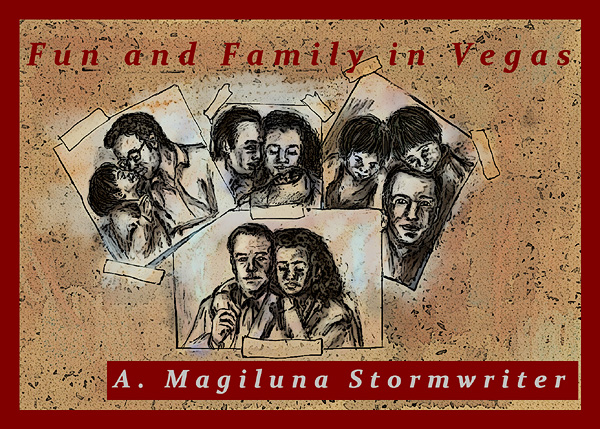 Story by A. Magiluna Stormwriter
stormwriter@shatterstorm.net
Art by Ceares
Genre: Slash (Jim/Blair), Crossover (CSI: Crime Scene Investigation, The Division, Women's Murder Club)
Rating: PG
Warnings (artwork): None
Warnings (story): None
Wordcount: 3,700
Author's Note: What You Need to Know: About five and half years ago, Jim and Blair discovered that there were others like them. Not the hell that Alexis put them through, but sane women, bonded tightly to one another. Blair and the other Guide, a woman named Catherine, made the arrangements for their Sentinels to meet. Dace is a powerful businesswoman with the soul of a wild cat that lives in Las Vegas. When she met the boys, she wore Jim out and Blair got some lovin' too. Now, each of the men have children to meet, many years later.

Summary: Years ago, Jim and Blair had a positive encounter with a female Sentinel. Now they get to meet their kids during a fun weekend in Vegas.
Links: Illustrated Story | Just the Art | Just the Story
-| Sentinel Big Bang |-